When most people think of concrete, they think of plain, boring gray. At Ferrazza, we go beyond the standard, changing drab and boring into elegant and exciting. We offer a wide range of colored concrete options to make your completed projects match your vision. Whether you're hoping for a color that perfectly mimics classic red brick or blue slate, or you're dreaming of something more vibrant like a bright green floor, we can mix up the perfect shade for you with one of our many coloring techniques.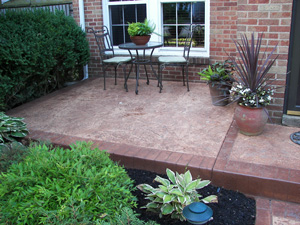 The first method used to add color to your concrete project is to add the color directly to the cement truck. This is perfect when you want a large portion of the flooring to look uniform. When the color is added at this stage it is completely mixed into the cement to ensure that no color gaps are left.
The second method for creating colored concrete is to add color in the form of color hardeners to the surface of a project, then work the color into the cement. Color hardeners are often used as borders or to spot color inside the slab; they're therefore perfect for adding logos, a secondary color in intricate design work, and other small or detailed area coloring.
The third method to color concrete is to use water-based or acid stains. When mimicking natural stone or wood panel styles, this wash is added on top of the concrete to emphasize the three-dimensional nature of the bricks. It creates a darker color wash that fills in the "grout" lines and gives the print a more natural, weathered look.
We have extensive experience creating colored concrete in a variety of shades based on our customers' preferences. Contact us today to discuss your colored concrete project.