Exposed aggregate is another decorative concrete finish option that offers home and business owners a more classic look.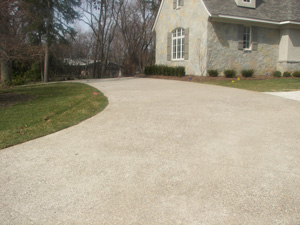 When installing exposed aggregate projects, we often use a pea stone mix which is made up of small and medium-sized stones. This mixture creates a pleasing, uniform look but still includes a variation of colors to engage the eye. We also offer a round stone mix that utilizes larger stones for a more cobblestone look.
We add strength to our exposed aggregate by increasing the cement content to 5000 psi, a 7 bag mix, and then pour and finish the concrete just like a regular slab. Often, we add colored concrete to the mix to give it a more vibrant look or to add dimension. Once the surface is hard, we power wash some of the cement paste off the surface to expose the decorative rocks. After the aggregate has been exposed and cleaned thoroughly, we apply a brown stone sealer, adding rich tones to enhance the natural color of the product.
We are ready to help design and install all your decorative concrete projects, including exposed aggregate. Contact us today to schedule your service.