Stained concrete is an alternative to using dyes to change the color of concrete. Stains are applied when the concrete has had sufficient time to cure.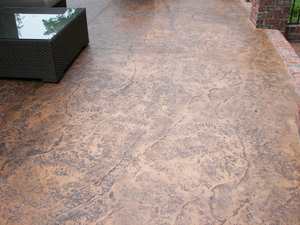 Types of Stained Concrete
Acid Stains

Traditional way of staining
Available mainly in earth tones
Chemical reaction with the hydrated lime in the concrete to create a permanent bond between color and concrete
Results are inconsistent across projects, giving a marble effect
Age of concrete can affect the results and should be considered

Water-Based Stains

Offer a much larger palette when it comes to colors that expand beyond earth tones: blues, greens, reds, silvers, etc.
Low Volatile Organic Compounds (VOCs)
LEED acceptable
Typically UV stable, making them ideal for both inside and outside applications
Both types of stained concrete can be highlighted with additional stains to add a one-of-a-kind look to both plain or decorative applications. Ferrazza has extensive experience utilizing stained concrete to create stunning projects. Contact us today to learn more about using stained concrete in your next project.