We offer concrete driveways in the form of stamped, exposed aggregate, or broom finish. When placed, all unsuitable material is removed and replaced with the proper base material at no less than 4 inches thick. All material used for base is completed every 4-6 inches, insuring proper compaction.
Our concrete driveways are poured at a 4000 psi strength and to a minimum thickness of 4 inches, or 6 inches where the driveway meets the road. Susceptible to heavier automobiles, all of our driveways are reinforced with a wire mesh and control joints, placed at no more than 10' top to bottom and left to right, in accordance with our best practices. In addition, we take special care to address areas that could lead to future cracks, whether it's by ensuring that a downspout is buried to route potentially damaging water away or creating cuts strategically to preserve the look of your driveway while allowing for shrinkage due to temperature fluctuations.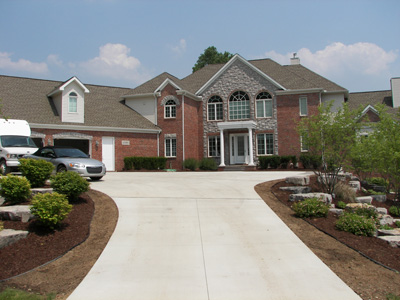 Our stamped concrete driveways allow you to achieve the look of natural stone, pavers, and even wood! Stamped concrete driveways offer a wide range of benefits beyond their visual appeal, including fast installation, cost-effectiveness compared to alternatives, increased durability, and low maintenance requirements. We offer a complete selection of stamp styles and color options to compliment and enhance your landscaping and home.
Our decorative concrete driveways offer a full range of styles, including exposed aggregate, broom finish, and stained or dyed concrete in a variety of colors, from natural tones to vibrant shades. These driveways can be sealed to provide a duarble finish to help your driveway look great for years.
Ferrazza Cement Construction is ready to create a beautiful and durable concrete driveway for you. Contact us now to schedule your concrete driveway installation service.