Stamped concrete is an innovative, beautiful, and cost effective method to achieve the look of stone, brick, wood grain, or other natural materials. By mixing concrete with the appropriate coloring and applying large-scale rubber stamps, stamped concrete can replicate both the texture and color depth of the mimicked material to combine a realistic look with the ease and durability of concrete.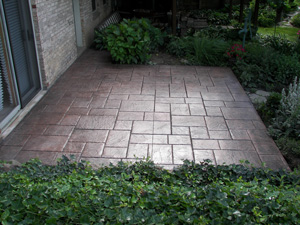 A Great Alternative to Pavers & Natural Stone!
At Ferrazza, we've had extensive experience completing a variety of projects using proven stamped concrete methods. From large-scale floors and patios to pool decks, driveways, sidewalks, and walkways, our stamped concrete offers a beautiful and unique pavement option that's cheaper and more durable than natural stone, but more flexible and artistic than pre-made pavers or asphalt.
Benefits of Our Stamped Concrete
Aesthetically Pleasing: Our selection of colors, textures, patterns, and imprints can be customized to fit any space or landscape!
Quick Installation: With Ferrazza's years of experience, our teams finish a typical stamped concrete project in only two to three days! Enjoy your beautiful finished product sooner than with other paving methods.
Cost Effective: Get the look of natural stone or pavers at a fraction of the cost. Our stamped concrete is competitively priced and easily mimics natural stone, blue stone, intricate brick, and even slate!
Built to Last: Stamped concrete is solid, durable, and includes a sealant wash for long-lasting beauty. We use a 4000 psi mix to ensure proper strength and life expectancy. We only use high-quality sealers, steel, and mesh fiber to ensure excellent durability-- plus, with no seaming, there's no need to weed!
The Ferrazza Difference
Ferrazza Cement Construction has been dutifully serving our customers with dedicated, high-quality concrete since 1972. Our customers know they can depend on us! Not only are we licensed and insured, our past portfolio of work gives you assurances of our quality from the real authority on client satisfaction-- our happy customers.
Ferrazza is the best choice for your stamped concrete project because we treat every home as if it was our own. We can give you the beautiful patio or pool deck you've been dreaming of with the use of the best base, proper reinforcement, and our attention to detail. We have a love for what we do, and that's how we can deliver the best product for your home.
We are your source for superior stamped concrete design and installation. Contact us today to discuss your stamped concrete project!