Seamless, yorkstone, cobblestone, slate-- we offer you the best range of stamped concrete designs with which to recreate your vision! We are proud to offer a great selection of stamped concrete patterns & designs.
All of our stamped concrete patterns & designs can be used to create a gorgeous finished project. Some of our most popular choices include: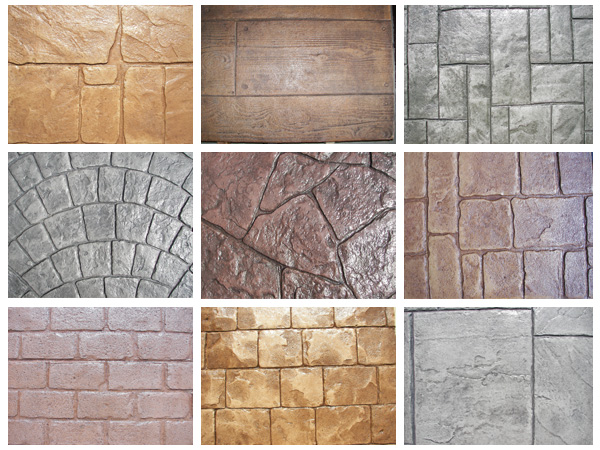 Vermont Slate:
A formal and elegant choice for nearly any type of project, from patio to walkways.
Brick:
Strong, sturdy, and perfect for use with urban and suburban spaces. Get the classic red brick or elegant white—or create your own color!
English Yorkstone & Random Stone:
These choices offer a more rustic look to compliment a variety of landscapes and architecture.
Wood Plank: This is ideal for people who like the wood deck look, but don't want to deal with the extensive maintenance that real wood requires.
Caesar Stone: If you want to keep it simple but still achieve the stone look, Caesar with a border is an excellent and elegant choice.
Appalachian & Cobblestone: These stamped concrete patterns are extremely popular for walkways and borders.
Many More: Please give us a call to go over all the options.
Choosing the Right Pattern & Design
We understand that you want your design to be perfect, and may have a lot of questions on how to make it so! That's why we have an experienced team to help you with your decisions. Based on your unique needs, we can help you choose the stamped concrete pattern or design that works best for you. We factor in your budget, the project's ultimate purpose, and the amount of space available, as well as more aesthetic concerns. If you have a color preference or need to accommodate stairs or a fire pit, we'll have suggestions-- if you want to incorporate something more unusual like your school or sports team colors or logo into the design, we can do that too! It's your project, and we're here to help you realize it in the best possible way.
Not sure exactly what you want? That's okay, too. We have a large portfolio of past projects that you can peruse and draw on for inspiration. Check out our gallery for just a few examples!
Ferrazza has been working with stamped and decorative concrete for over 10 years, but we know the industry is always moving forward. Our team members attend classes and seminars whenever possible so that we keep up with all the new products and trends. If you want your project to be something truly modern, we'll help you combine new world aesthetics with the reliability of old word expertise.
Contact us today to learn more about our current selection of stamped concrete patterns & designs.