Whether you're dealing with indoor floors or exterior walkways and patios, it is crucial to ensure that your concrete projects are properly sealed once finished. If left unsealed, your chosen colors can fade quickly; oil and grease can penetrate surfaces; the concrete can be badly scratched or otherwise damaged. A properly sealed concrete product-- whether it's stamped, exposed aggregate, or regular concrete-- is better protected from the elements, freeze-thaw cycles, staining, abrasion, and chemicals.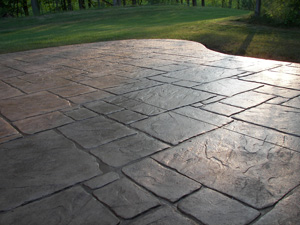 Our sealer gives our finished concrete a semi-gloss finish, producing a more natural look and requiring little maintenance. Sealers bring out the true, multidimensional color in the concrete and really make your walkway or patio a wow statement! To protect running feet against slipping and sliding on a wet pool deck, we also add an abrasive to the sealant to increase traction.
Want to make sure your concrete surface lasts forever? We're your source for ensuring that your concrete surfaces are properly sealed. Contact us today to learn more about our process for sealed concrete.